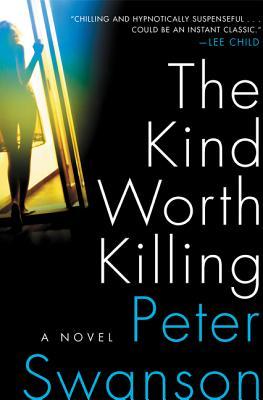 Titulo:
The Kind Worth Killing
Autor:

Peter Swanson
Fecha de publicacion:
3 de febrero, 2015
Idioma:
Inglés
Mi puntuación:
5/5
A devious tale of psychological suspense involving sex, deception, and an accidental encounter that leads to murder. This is a modern re-imagining of Patricia Highsmith's classic Strangers on a Train from the author of the acclaimed The Girl with a Clock for a Heart.

On a night flight from London to Boston, Ted Severson meets the mysterious Lily Kintner. Sharing one too many martinis, the strangers begin to play a game of truth, revealing intimate details about themselves. Ted talks about his marriage and his wife Miranda, who he's sure is cheating on him. But their game turns dark when Ted jokes that he could kill Miranda for what she's done. Lily, without missing a beat, says calmly, "I'd like to help."

From there, Ted and Lily's twisted bond grows stronger as they plot Miranda's demise, but soon these co-conspirators are embroiled in a game of cat-and-mouse--one they both cannot survive--with a shrewd and very determined detective on their tail.
Tenía tiempo sin escribir una reseña y es porque la verdad no me sentía en el "mood" de escribir una. De los libros que he leído en enero no hubo ninguno que fuera tan estresante como para desahogarme y hacer una reseña o tan bueno como para recomendarlo. Estaba un poco desesperada porque me estaba quedando sin libros que leer y alejándome un poco del género que suelo leer me encontré con esta maravilla de libro gracias a GR, además el thriller siempre ha sido mi 2do género favorito.
El libro nos cuenta la historia de Lily y Ted,
2 desconocidos
que a medida que vas leyendo descubres que tienen algo en común, se encuentran por casualidad en un aeropuerto en Londres. Descubren que ambos se dirigen al mismo destino y comienzan a entablar una conversación rápidamente como viejos amigos, con la ayuda de unas cuantas copas y el retraso de su vuelo. Ted,
atraído por Lily
le habla sobre su esposa, Miranda, y como ella le está siendo infiel, razón por la cual Ted le confieza que quiere matarla (Miranda). Lo que Ted no sabía era que Lily le intrigaba mucho su idea y decide ayudarle. Un plan que parece casi perfecto...
Pronto nos damos cuenta que nuestros personajes, no sólo Lily y Ted tienen la mente retorcida sino también Miranda. El libro está contado desde la perspectiva de los personajes principales:
Lily, Ted y Miranda
, también algunos capítulos contados por el detective. Esto nos permite simpatizarnos y conocer un poco más sobre el pasado de cada uno.
"Everyone has a full life, even if it ends soon. All lives are complete experiences."
Lily. Hija de un escritor famoso y madre artista. Padres descuidados que solo se interesan en realizar fiestas. Se gana la vida trabajando en una universidad archivando.
A la edad de 12 años
, Lily, tuvo un inconveniente que la terminó marcándola por toda su vida. Este personaje me agrado mucho. Misteriosa, ingeniosa y retorcida a la misma vez. Cada vez que leía algo nueva sobre ella, más aumentaba mi interés y más me sorprendía que ella no tenía límites, si se encontraba con una piedra en el camino solo tenía una forma de deshacerse de ella...
Ted. Compro una casa en Maine para vivir allí con Miranda. Miranda piensa que la casa necesita unos arreglos, razón por la que decide contratar una firma de arquitectura. Es allí donde entra Brad, el contratista. Ted descubre que Miranda le está siendo infiel con Brad y es por esa razón que decide que la mejor venganza seria matándola.
Ted me pareció un buen personaje, quizá no tan retorcido como Lily lo era, pero estaba decidido en cumplir el plan.
"Truthfully, I don't think murder is necessarily as bad as people make it out to be. Everyone dies. What difference does it make if a few bad apples get pushed along a little sooner than God intended? And your wife, for example, seems like the kind worth killing."
Si estás buscando en comenzar a leer un libro de este género y no encuentras, te lo recomiendo. Es muy fácil de leer, no es para nada pesado, personajes complejos y la trama te mantiene a la expectativa. Más de una vez me mantuvo con el corazón en la boca y no te llegas aburrir para nada.